Thérèse Fortin has exhibited in New York and Dubai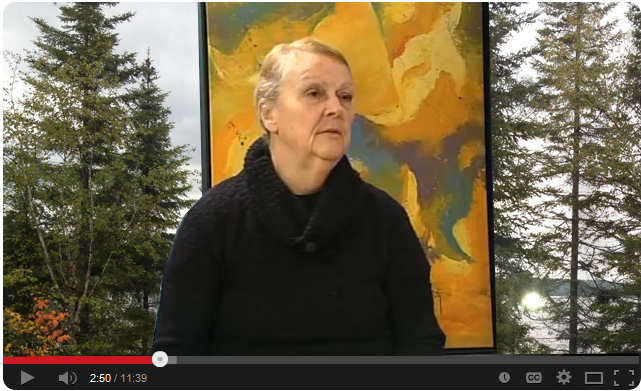 ROGER BLACKBURN
---
rblackburn©lequotidien.com
SAINT-FÉLIX-D'OTIS - Two major events are on the horizon this year for the painter Saint-Félix d'Otis Thérèse Fortin. She exhibited at the annual event in New York Artexpo 4, 5 and 6 April and prepare for participation in Dubai Contemporary Art Fair at the short fall.
Already well known south of the Quebec border, Thérèse Fortin wants to put on the agenda the émergisme, technique on American picture rails. Worked for 30 years with an expressionistic approach doubled by the use of its own colors, Thérèse Fortin combines abstraction and figuration in the same space.
It often deals with female themes, music and dance in a chaos of forms surrounding the main subject. The oil is her medium because it dries slowly and spatulas are tools both in the tiny details in big spots.
"It's time to take the plunge, to see my work in the United States, as many organizers of major exhibitions of painting in the world contact me for me to participate in their Biennial or their annual exhibition. But it is so much easier to drive ten hours with them that you entrust them to transport third court without knowing what state they arrive at their destination or especially if they arrive on time as it happened to me in 1997 during my first participation in the Artexpo "says the artist.
Always active in the community, Thérèse Fortin was the honorary president of the first contemporary art symposium River Eternity last fall and will probably Symposium Alma this summer.
"Stay funding hole-ver for the trip to Dubai, but I have confidence in life," concludes the artist who uses the Internet to open its creation on other horizons.

Source : Thérèse Fortin
(418) 306-5728
www.theresefortin.com
---
Recognized and appreciated art critic, Thérèse Bélanger described the new technique of "the performance of the controlled accident"



The visual artist, Thérèse Fortin explained Artexpo in New York on 4, 5 and 6 April 2014.
Whereas the financial crisis fades in the United States, this artist has offered a participation
in the largest annual show in New York.
Thérèse Fortin
exhibit at
New York
and Dubai
See Thérèse Fortin interview Dery Telecom

Article from Quotidien


Already well known south of the Quebec border, Thérèse Fortin
wishes put the émergisme, technique on American picture rails.
The art historian Thérèse Bélanger has described
this technique "Performance of the accident controlled".

Worked for 30 years with an expressionistic approach, but doubled by the use its own colors,
Fortin combines abstraction and figuration in the same space.
It often deals with women, musical themes and dances in a chaos of
forms surrounding the main subject. The oil is her medium because it dries slowly
and spatulas are his tools both in the tiny details in big spots.

"It's time to take the plunge, to see my work in the US because several major fairs
organizers of painting in the world contact me for me to participate
in their Biennial or their annual exhibition.
But it is so much easier to drive ten hours with his paintings
as the entrust transportation brokers without knowing what state
they arrive nor to especially if they arrive on time as it happened to me in 1997,
during my first participation in the Artexpo "

In 2013, in the region, Thérèse Fortin was the honorary president
of the first symposium Contemporary Art in Rivière-Eternity.
With the team of volunteers RAARE, she has put all his energies
to the success of the symposium which was held in Action Grace
in the Lower Saguenay and reoffend this year.

It will probably Symposium Alma this summer, but it is the fall
that his biggest challenge will come, a participation Contemporary art fair in Dubai.
Still find funding for the trip great cost but she has confidence in life.
Internet opens many doors with his site, she fully intends to use
this online tool to align the stars to success in his career.


Source : Thérèse Fortin
(418) 306-5728
www.theresefortin.com



---




All works appearing in these pages are originals (oil on canvas).


Surrounded by people, this courtesan
is refreshed on a hot day.


Hot
( 50" x 30" = 6000 $ )



Young blond woman on the balcony
of his house overlooking the
Mediterranean where a sailboat sways lazily.


Misty Morning in Nice
( 49" x 30" = 5800 $ )



Elegant redhead finds
it has a mesh at its low.


Jocelyne
( 50" x 30" = 6000 $ )



Anxiety screwed to the stomach,
she awaits her lover drinking champagne.

Champagne ( sold )



Expected his audience the star
half-open the curtain.





The entrance to the star ( sold )


Recognized and appreciated art critic, Thérèse Bélanger
described the new technique of "the performance of the controlled accident"»